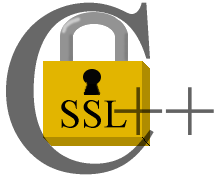 SSL++ is simple C++ library that encapsulates some of OpenSSL functionality in easy to use set of classes. It is in very early stage of development now, but can do enough already to be useful to C++ developers, who want to use SSL in their programs.
Use SSL++ as you like, and if you have any questions/problems/bug reports/bug fixes post them to sslpp@total-knowledge.com. Send empty message to sslpp-subscribe@total-knowledge.com to subscribe.
Latest version: 0.1.1
See ChangeLog for more information.

| | | | | | |
| --- | --- | --- | --- | --- | --- |
| | Known high severity bugs | | Known low severity bugs | | No known bugs |